Restaurant, venue and location
Aquasalata Restaurant is located in the beach established called "Sabbia e Sale" in Chioggia and has been managed by the Tiozzo Family for over 35 years.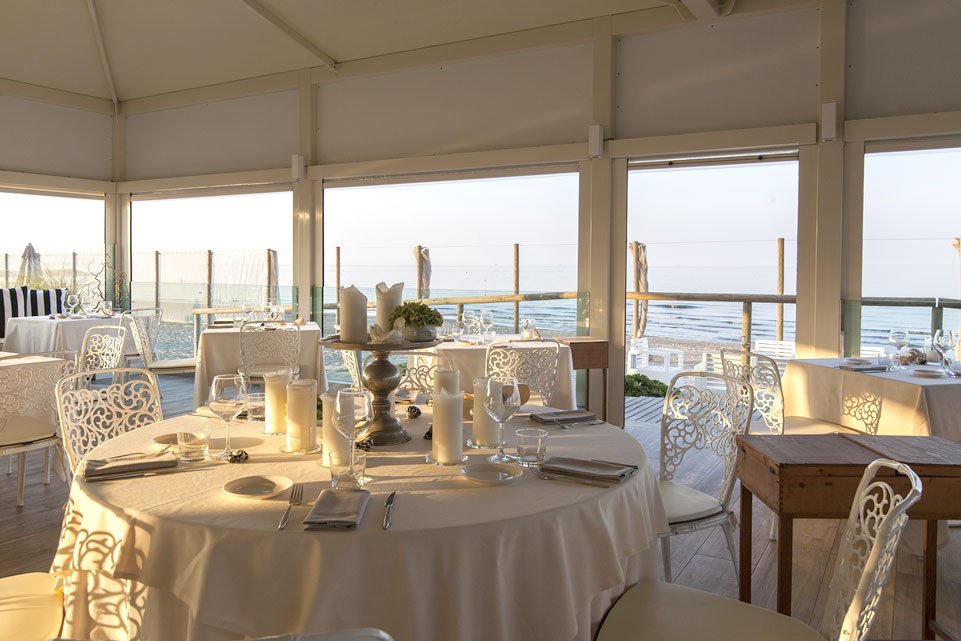 Venue and location
Aquasalata Restaurant is located in the beach established called "Sabbia e Sale" in Chioggia and has been managed by the Tiozzo Family for over 35 years. Aquasalata is the only restaurant on the Venetian Coast to have a seafront conservatory setting. You can choose to have lunch in the conservatory or experience the exciting emotion of eating in the Kibanda Suites.
Andrea Cesaro
"In every dish I have to see colors, because cooking is like painting on a huge canvas, it's stealing colors from nature and the soul to put them on the plate, it's talking when words can't get and I try to do it through colors, shapes, consistencies. Cooking is a gesture of love ".
Our "cheff with two effe" was born in Montagnana in 1988.
Trainer of the Salesian Cfp "Manfredini" of Este, he also collaborates with other culinary realities as innovative cooking and show-cooking courses.
With the now traditional bowler hat, but above all with his sympathy and his verve, the cheff creates his dishes with a unique and fun style, but at the same time simple because "the kitchen must respect the nature of things, looking for however, to grasp every nuance ".
In his experience Andrea participates and wins the television program "Chopped", a cooking competition conducted by Gianmarco Tognazzi. To date he is a competitor of the ninth edition of "Cuochi d'Italia", the television program hosted by Alessandro Borghese in which he represents his beloved Veneto.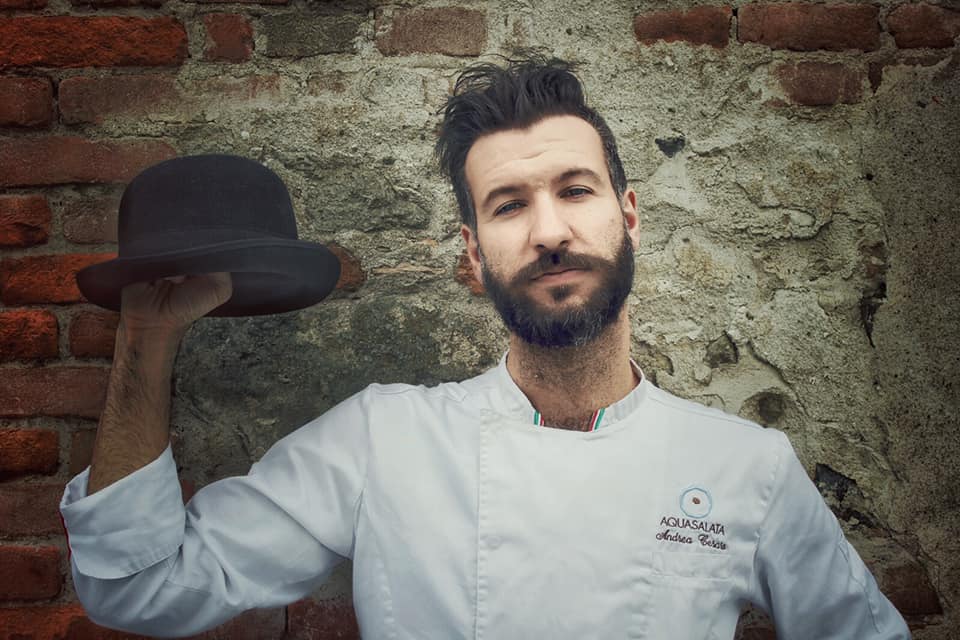 Paola Fusetti
"I have asked myself many times what I would like to do in life, but the answer has always been the same: cooking with so much passion and making others happy. Who knows how to laugh and cook, I add, is master of the world".
Paola was born in the heart of the Po Delta Park.
It has always been called "cook by nature".
She followed this culinary instinct deepening her knowledge among books and cooking classes, among these, one which is very closely linked with the duration of a year on Veneto's gastronomy, in particular a study of the typical dishes of the traditional cuisine of the Po Delta (between Chioggia and Comacchio) and the Polesana kitchen.
Passion and curiosity are, for Paola, two fundamental elements to be able to continue doing this work with enthusiasm. Vegetarian for twenty years, she has made this lifestyle a new way of working, attending the natural cooking school "Il sesto sapore" in Treviso.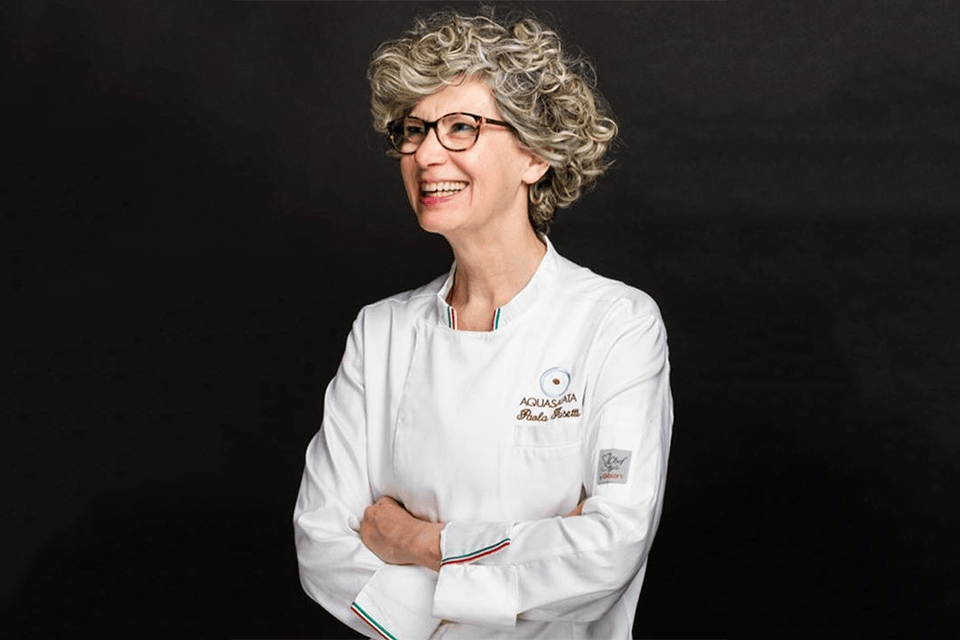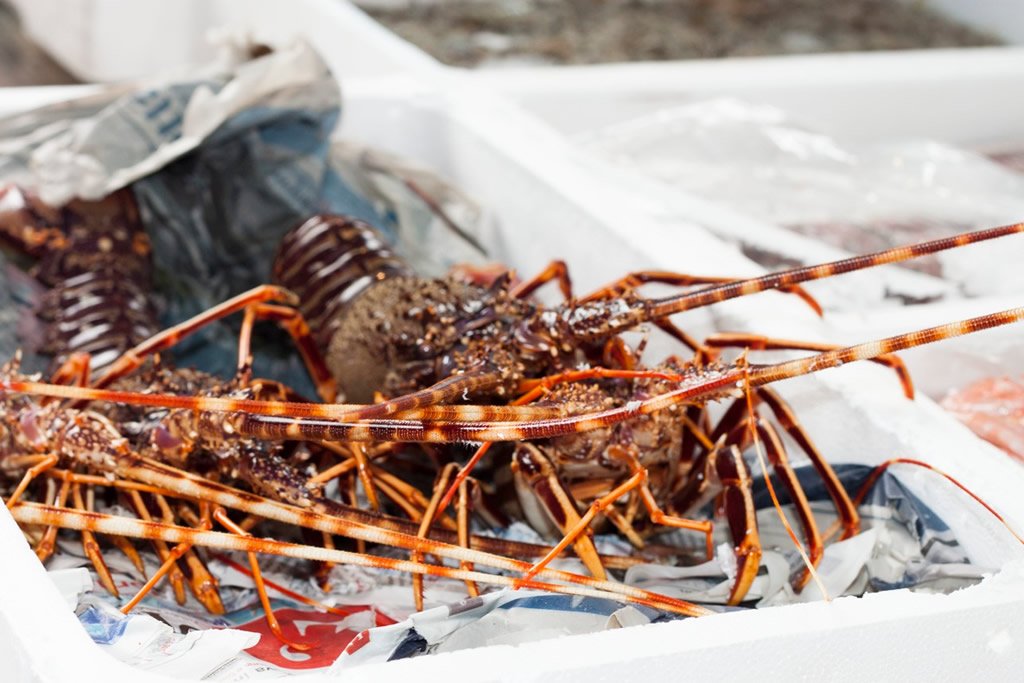 Local cuisine
From Chioggia's vegetable gardens to your table, the best you can desire: IGP radicchio (kind of red chicory under geographical indication protection), carrots, onions, pumpkin, celery, melons and watermelon. The proximity of sea and lagoon creates a unique microclimate that favours some of the most exquisite fish and shellfish.
Our dishes
We do not serve unique dishes, but a multiple experience: colours, flavours, textures, love. Our dishes are the result of great work relationships and friendships successfully combined with top quality ingredients
from our land and sea waters.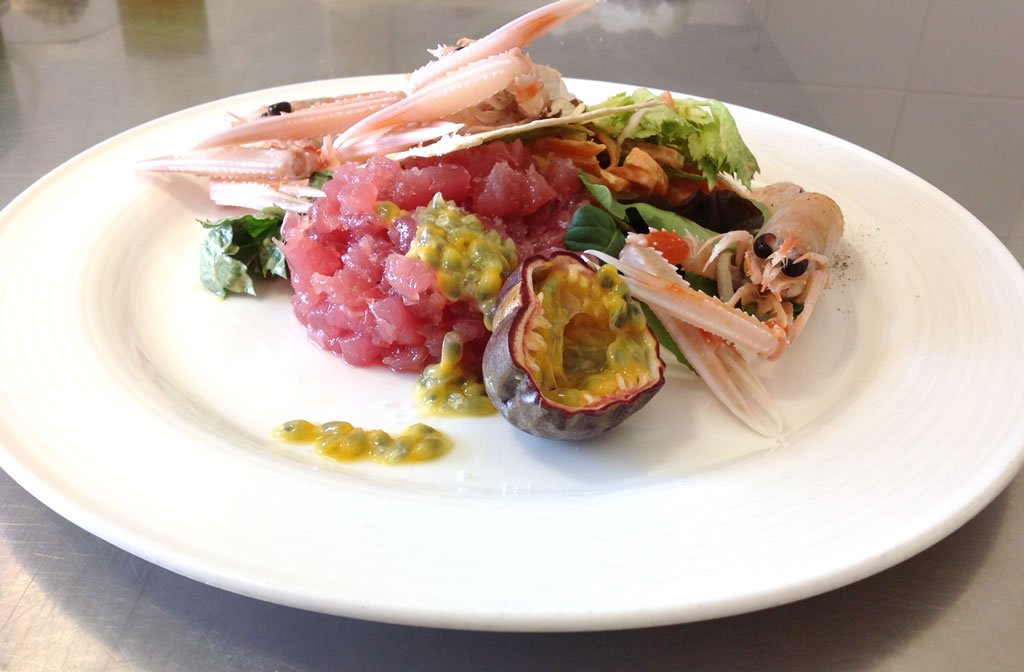 Aquasalata, Venue
Aquasalata is the only restaurant in Chioggia to be a partner of Legambiente (a major Italian environmentalist association): in fact our buildings are made using eco-sustainable materials. The restaurant is located in the heart of Isola Verde, a green area that comprises market gardens with produce of proven quality and a beach of white sands. The beach is separated from the inland area by dunes with Mediterranean vegetation, a site protected by the European Union.
Lunch